Finance and Administrative Services
"Service for Success!"
Finance and Administrative Services (FAS) will provide "services for success" in innovative ways to ensure a cooperative relationship with all departments.
The division which consists of the Business Office, Purchasing, Human Resources, Operations & Maintenance, Facilities Planning & Construction, STC Department of Public Safety, Food Services, Risk Management and Accountability Services is responsible for fiscal responsibility, acquiring resources in a timely manner, recruiting qualified personnel, providing and maintaining safe and adequate facilities and all other support services necessary to ensure a productive learning and working environment.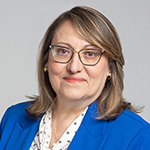 Mary G. Elizondo, MBA, CFE, CGMA, CPA
Vice President for Finance and Administrative Services